Dental Bridges Near You
When you suffer from tooth loss, it can affect your life in more ways than one would likely imagine. Not only does having missing teeth impact your appearance and smile, but it also has negative effects on your oral and overall health. There are many consequences of missing teeth such as bone loss, teeth misalignment (shifting teeth), bite irregularities, difficulty chewing, and speech issues. If you are facing tooth loss, dental bridges may be an effective tooth replacement option.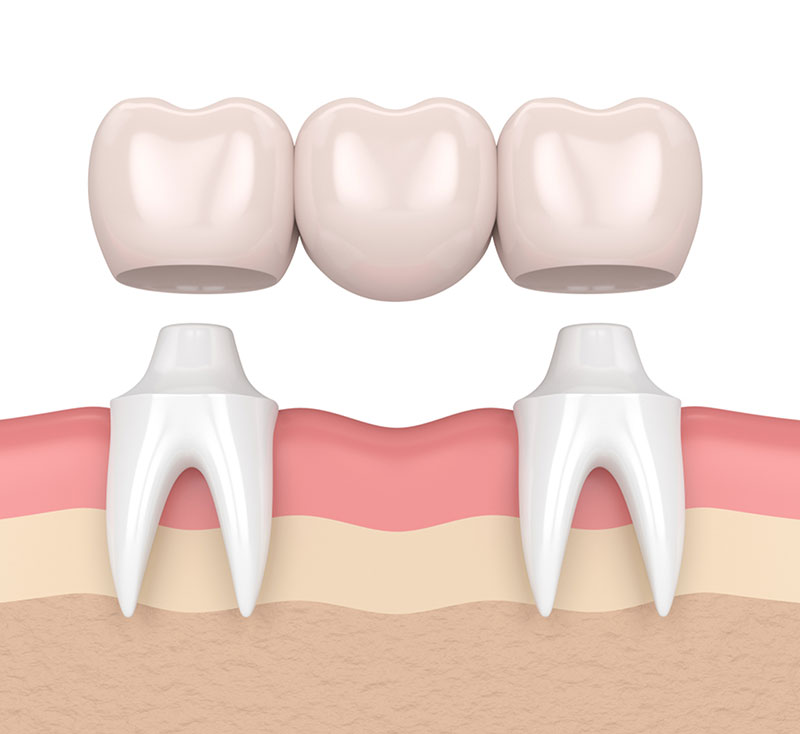 Before Getting Dental Bridges
If you are interested in dental bridges in Grande Prairie, learning the basics—what a bridge is, its benefits and the procedure involved can help prepare you. We highly suggest that you schedule a consultation with our grande prairie dentist if you are looking for dental bridges near you. Before we begin discussing the process involved in getting a dental bridge, first, let's discuss what a bridge actually is.
What is a Dental Bridge?
A dental bridge is a method used to replace one or more missing teeth in your mouth. Dental bridges entail the attachment of an artificial tooth/crown to adjacent teeth. Our dentist does this by preparing your adjacent teeth for the dental bridge or attaching small wings to the back or sides of the adjacent teeth.
How Does a Dental Bridge Differ from a Denture?
The answer is quite simple, a denture is removable, which means you can take it out of your mouth and insert it back in. A dental bridge, on the other hand is bonded to your teeth offering you stability and comfort, which means you cannot remove it. Receiving a dental bridge consultation in Grande Prairie will help determine if you are a candidate for this restorative treatment. Dental bridges in Grande Prairie help restore the function of your missing teeth and offer you a natural-looking tooth replacement.
What is the Process Involved When Getting a Dental Bridge?
If you are interested in receiving dental bridges, we are happy to help you learn more about dental bridge treatment. You will be required to first schedule a consultation, where your dentist will perform an evaluation to determine if you qualify as a candidate for this treatment. Once our dentist has confirmed this is the best restoration option, two additional appointments will be scheduled. The first appointment will consist of preparing your tooth and taking a digital impression. This is sent to a laboratory, where a custom-made crown is fabricated. You will receive a temporary restoration before you leave the appointment.
At your next visit, which is typically one to two weeks later, the temporary restoration is removed and a porcelain crown, onlay, or bridge is fitted and bonded.
To learn more about dental bridges and the process of getting dental bridges near you, contact us today! We would be more than happy to schedule a consultation and provide you with a dental bridge in Grand Prairie at our dental office near you.